"Don't be afraid to start over. This time you're not starting from scratch, you're starting from experience." – Unknown
Introduction:
If you are a speaker, every speech is an opportunity to start again. If you're memorising your speeches, stop it. Be willing to embrace spontaneity and extemporaneous speaking. It will allow the 'human' within you to show and you will be more authentic.
Instead, think about ways you can speak from a place of calm assurance. What does it take? I'm glad you asked.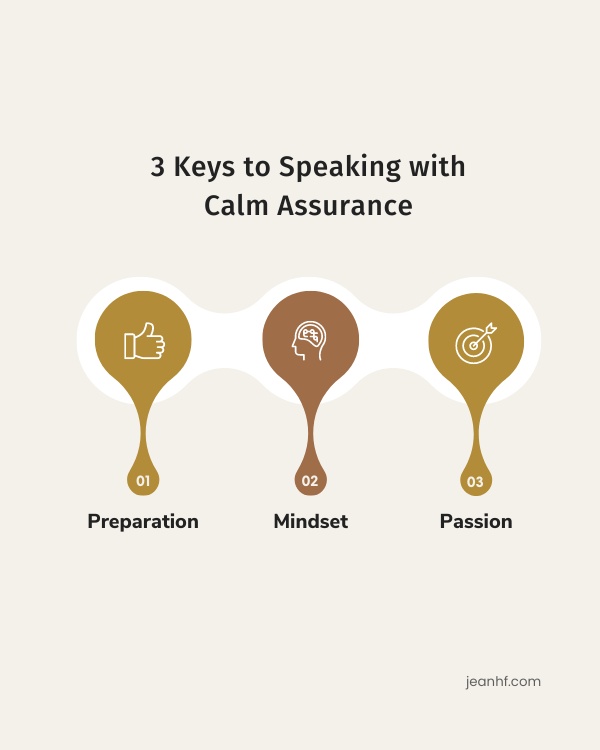 Here are 3 keys to speaking with calm assurance! 👊
1. Preparation
You know your stuff, right? Of course, you do. Instead of memorising a speech, capture 3-5 points you want to cover (depending on the time you have to speak). This helps you prepare a loose framework and allows you to concentrate on engaging the audience and contributing to their experience by delivering value.
2. Mindset
You are the authority. The depth of your knowledge and experience will allow you to maintain an air of calm assurance. The audience is there to hear what you have to say. Give them the best of you. Keep it simple. Employ brevity yet, give them enough to go away feeling and knowing that they have been in the presence of a master. Give them something to take away that will embed what you have shared. You have everything you need and you are credible and trustworthy. Believe it!
3. Passion
Passion is not all fire and brimstone. Speaking with persistent and consistent high energy is exhausting for the speaker and the audience. Instead, invite them into your world and allow them to get a glimpse of the passion you have for your topic. Passion binds everyone together in a shared experience. It lends to credibility because it reveals you as a real human person. Too much passion can border on histrionics and drama. Rein it in for the best possible outcome.
Start your own checklist:
Here is a quick checklist to get you started. Remember, keep the audience in mind and develop a loose structure from where you can choose to deviate.
What topic will you speak on?

What information does your audience need?

Create a loose outline of 3-5 points (depending on your timeframe).

Develop a story around your points that links them together.

Speak conversationally, as if you were speaking to a friend

Sum up your points at the end and have a call to action or give your audience something to take away.
Now what?
You know that there are more than 3 keys to delivering a great speech, don't you? It is a multi-layered topic. I'll give more information as I go with this journal. For now, I hope you will use what I've brought your way when developing a new speech.
Resources
When I speak virtually, I use a Blue Yeti X microphone. You can get one through Amazon wherever you are. They are wonderful mics and do a fantastic job! I'll be sharing other resources with you over time.
Happy Speaking!